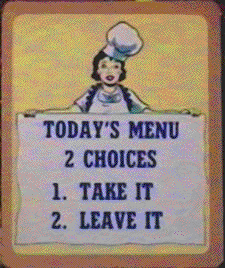 Unfortunately, they decided to TAKE IT! :-(
1955-2000 45 Years of "Good Food"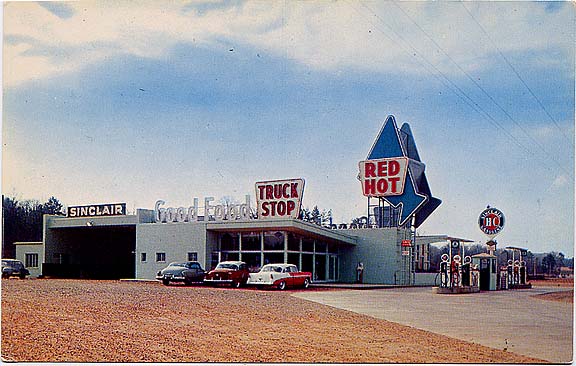 RED HOT TRUCK STOP, featuring SINCLAIR H-C Gasoline (c. 1955)

(Special thanks to Dent Cermak for the photo).




THIS WEBSITE NOW PRESENTED IN LOVING MEMORY OF JIMMY MILES,

RED HOT OWNER WHO PASSED AWAY DEC. 17, 2002 AT THE AGE OF 63


A

HISTORY:
The Red Hot Truck Stop opened in 1955 in Meridian, Mississippi. In those days, you simply turned right off the brand new interstate into their parking lot. The "interstate" in those days was a new four-laned section of U.S. Highways 11, 80, & 45 called Tom Bailey Drive that ran on the then edge of town. The Red Hot's extremely large and bright signs welcomed the weary traveler and provided a clean, comfortable place where they could get a good meal at a fair price, and make a few friends if they stayed around long enough. You see, Red Hot was a place where everyone was welcome, no matter who you were, where you were from, or (as one student says that dug for fossils behind the restaurant) how dirty you were.
In the 1970s, the interstate highway system was changed. The interstates were made separate from the old U.S. highways, and part of the old interstate became "South Frontage Road". You could no longer simply drive right in--you now had to take an exit on to the Frontage Road and then go to Red Hot. A large bridge was built for the new interstate, which went over a railroad track and allowed access from one frontage road to the other. The bridge was built across from Red Hot and it's parking lot. This made it difficult for large trucks to easily access the truck stop. However, the dedicated truckers, travelers, and local customers that patronized the truck stop made the effort to get there,anyway. The Red Hot survived the 1970s, but as you will see later, it wasn't "Y2K Compliant"--at least the landowner (different from restaurant owner) must have thought it wasn't.

In the early 1990s, the business (but not the land) was purchased by Mr. Jimmy Miles. He has said that he bought it because he ate there so much, he decided he might as well own it. Under his ownership, the Red Hot got many needed improvements--new air conditioning; a new stove; and a few other things. They did, however, become simply a restaurant. The stopped selling fuel and repairing trucks sometime in the late 1980s or early 1990s. In fact, eventually the "Truck Stop" sign was turned off. However, we thought "Red Hot" and "Good Food" would be lit up (at least partly--one side said "RE HO " at night--and the border lights were all out) from now on. Little did we know.........

In September 1999, the news came. The Red Hot would be destroyed to make a driveway for--get this--a Wal Mart Supercenter and other stores. The landowner "pulled the rug right out from under their feet". [We'd already lost the Virginia Court Motel (another '50s landmark) a few years ago to make a driveway for a new mall.] So, tearfully, the Red Hot crew packed up and moved in November to the vacant cafe at the Howard Johnson's Motel, located on a section of the original interstate that is still intact that is now simply "U.S. 11 & 80" One problem--the signs can't go (or can they?)

The Red Hot was torn down in June 2000. The "Good Food" and "Truck Stop" signs were completely destroyed (wouldn't I like to kick somebody's butt right now...), however the "Red Hot" sign still stands. Mr. Miles is currently trying to get the sign and put it up at the new place. If they won't let him have it, we are in great danger of losing the rest of a piece of history that reminds of us another time--when bigger and brighter was indeed better--the thing is twice as tall as the building was--and our welcome to the weary traveler that doesn't just say "Red Hot", but says "Come on in, you're always welcome here. Here you will find good food for a fair price in a comfortable place, where your're sure to make some new friends." After all, it's a big sign, so it can say a lot!


GENUINE

ARTIFACTS:
I have four and a half bricks from the original RED HOT TRUCK STOP building. I simply stopped and helped myself to them, which was perfectly OK and legal in this case [although I might've done it
anyway :-) --just kidding, for you policemen reading this. I am really a very law-abiding citizen].
INTERESTING

CHARACTERISTICS:
As you know by now, RED HOT was a very interesting place. Here are a few of those unusual characteristics:
| | | |
| --- | --- | --- |
| | • | RED HOT PREVENTED CRIME!?:On the gas station side, the restaurant windows went from floor-to-roof on the side and front, allowing the customers to keep up to date with what was going on outside (that's probably not the real reason for this). In the other section, they went from table height to roof. It was also great, because you could keep an eye on your vehicle while you ate, perfect if you drive classic cars or if you happen to be hauling something on a truck that could be easily stolen (you can't trust many people these days). The fact that everyone could see the parking lot probably kept criminals from tampering with vehicles and such. Great idea!! The real reason for it was probably so patrons could see the (then) brand-new interstate, and watch the traffic as they ate (however, I am just speculating). |
| | | |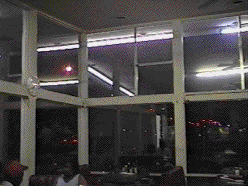 • A RESTAURANT DIVIDED AGAINST ITSELF CAN NOT STAND--OR CAN IT?: The restaruant was divided into two separate dining areas. As you entered through the door (located on the front on the "gas station side" of the sign), to the left was seating, and to the right was a brick wall. If you went around the wall, there was another dining area. A counter and bar stools curved around the restaurant from one dining area to the other. The bricked-in corner (located under the famous sign) housed the air conditioning and heating register, as well as a place to sit if you preferred to sort of keep to yourself. It has been theorized that segregation in the 1950s was the reason for the separate dining areas, but this hasn't been proven right or wrong.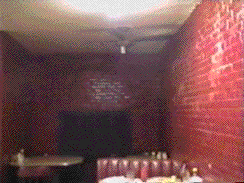 • ARTWORK IN A TRUCK STOP? WHY NOT? Red Hot had a couple of scenes painted on the walls for patrons to enjoy while they waited on their orders. Here is one of them. You can see the other one in the right-hand picture below in the "Where's the....." section.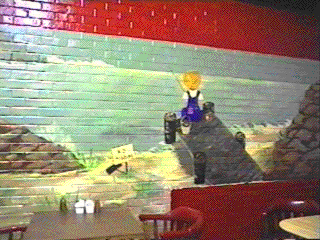 | | | |
| --- | --- | --- |
| | • | "WHERE'S THE MEN'S ROOM?" "WHERE'S THE KITCHEN?" WE'LL ANSWER THAT AND MORE HERE: The kitchen was located on the west side of the building, just behind the dining area. On the gas station (east) side, there was a hallway, which had restrooms on the left, an office on the right, and led to an exit and possibly to the truck repair shop (I never investigated this part of the building, since the shop was closed and that exit wasn't used anymore, so unfortunately, I can't tell you much about it.) In the left picture, note the "MENS ROOM" sign on the door. |
| | | |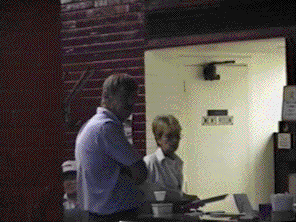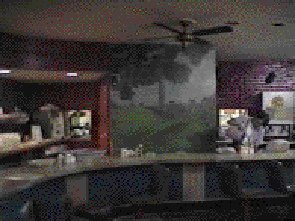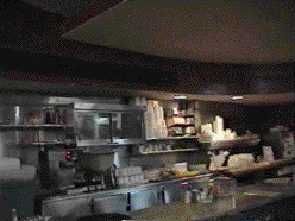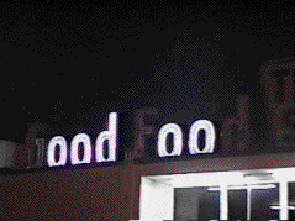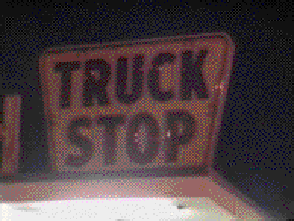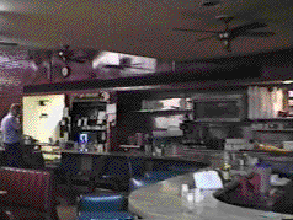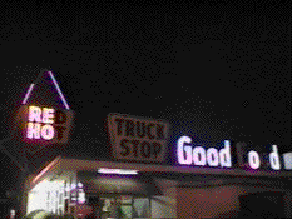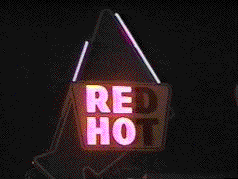 WANTED: 1955 NEWSPAPER ARTICLE!:
There was a copy of the article "Grand Opening at the Red Hot Truck Stop" from 1955 posted on the wall, and I never got a chance to read it, though I always wanted to. I will try to locate it, and I'll make a digital image of it, and post it here. Let me know if you have it, please!


IF YOU HAVE ANY PICTURES, STORIES, ARTIFACTS/OBJECTS, INFORMATION, OR CORRECTIONS, PLEASE SUBMIT THEM TO ME AND I WILL INCLUDE THEM.

BE SURE TO CHECK OUT THE "ABOUT ME" PAGE OF THE WEBSITE! MY AGE MAY BE A SURPRISE TO YOU!

DISCLAIMER & USE OF "FREE SPEECH" STATEMENTS:
Some of these photos were taken from The Meridian Star, while others are from my personal collection of photos and videotape. No infringement of rights is intended. This page has not been approved by the Red Hot Cafe owners (because I simply haven't had a chance to ask them about it yet), however, I don't believe that they will have a problem with it. So far, the destruction of RHTS is the only sizeable "grudge" the author of this page holds against Wal-Mart and its company, however, something like this isn't easily forgotten. (They aren't really the bad guy in this one--not totally). I even shop there myself every so often, so don't try to sue me. (I don't have a dime to my name, anyway! :-) After all, I am excercising my right to free speech. If anyone objects, turn off your ears--or in this case, eyes.)


Whether it's memory lane, the fast lane, or the information super highway--it's probably on one of The Friendly Network Web Sites!



| | |
| --- | --- |
| | This website is produced by |
| | |
| --- | --- |
| | Friendly Productions |
A Rainer-Cooper-Huntley Company
All original content is © 2000-2003 R-C-H Productions.